At one point or another, you will find yourself watching an anime that just goes on and on without ever ending. A viewing experience can last over hundreds of 25-minute episodes. However, there are times when you just want to sit back and watch a short anime without having to worry about the hundreds of episodes left in order to complete the story. There are many of them out there, but not all of them will make you laugh out loud. For this list, I will be looking at two types of anime
Those with a low episode count but could last for 20 minutes or more
Those with short runtime, roughly 5 minutes or less, but could span for 20 or more episodes
In each case, you will be able to finish the show rather quickly and you will have the added bonus of having a great laugh!
---
HANDA-KUN
Sei Handa is a reclusive high school boy, afraid to speak to any one because he is the most hated person in school…or so he thinks.  Handa is actually the most popular boy in school, and his self-imposed exile came about due to a misunderstanding. The anime is worth the watch mostly because of the supporting cast, but Handa himself is just as funny with his deadpan and sarcastic humor.Those who have watched Barakamon will enjoy this one since it features the same protagonist!  Handa-kun only runs for 10 episodes, with each episode ranging from 21-24 minutes. If you try, you could finish this in three days (just trying to be realistic here).
SAIKI KUSUO NO Ψ-NAN
Saiki is the most powerful being in the universe, having been born with near unlimited psychic powers. You might think that this is really exciting but Saiki doesn't see it that way. He knows that his abilities will make him stand out and that is the last thing he wants to deal with. It's of no help that his two closest friends are some of the strangest students in his class: one is exceptionally stupid but has incredible athletic talents while the other has a worrisome case of eight grade syndrome. Then we have to factor in all the other distractions of an obsessive queen bee, a jock with so much enthusiasm that it's nauseating, a perverted medium, and parents whose bipolar relationship ranges from loving to almost murderous. Surely, Saiki has it hard. Each episode consists of multiple short segments that deal with Saiki's day-to-day life. If you're expecting an anime about a psychic saving the world, this isn't it. However, if you would like to watch a gag anime with an overly sarcastic and emotionless overpowered protagonist, this is the right anime for you. Just be prepared to rewatch entire segments over and over….
SENYUU.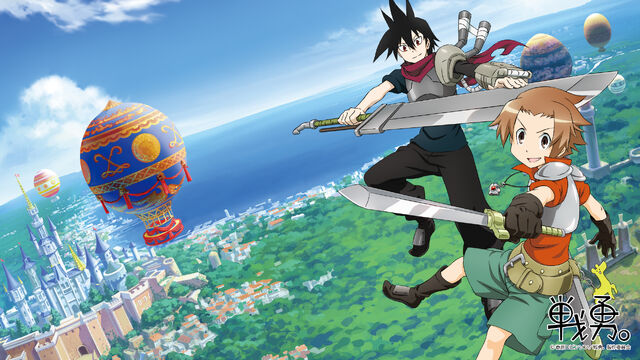 Anyone who liked Konosuba will thoroughly enjoy this cute little anime. Like the aforementioned show, Senyuu. is a parody of the isekai genre. Its characters have a hilarious set of strengths and weaknesses and their bizarre adventures are both heartwarming and rib-cracking. The premise is that a large, black hole has suddenly appreared, spewing forth demons in great numbers. The king is afraid that the demon king, who was vanquished by the legendary hero Creasion 1000 years ago, will make his grand return. To stop him, he recruits hundreds of Creasion's "descendants" to go defeat the demon king for a handsome reward. Alba, the protagonist of the story, is one of these recruits and is accompanied by the soldier Ros. Alba is pretty average in all respects, in true isekai main character fashion, and thus serves as the straight man of the series. Senyuu. has two seasons with episodes less than 4 minutes long (if you ignore the opening and end credits) so it is a quick watch. The characterization here is top-notch which makes the irony even greater – a parody has better written characters than the real thing. It has lots of funny moments and the few fight scenes that are there are quite well done. Once you start, you will want more. However, there is a cliffhanger and the third season is yet to premier….
NICHIJOU
Nichijou is a cute anime that follows the life of three high school friends along with an 8-year-old scientist and her maid. There is no grand plot or scheme, only the daily shenanigans of these five characters and their wacky supporting cast. Each episode consists of rapid shorts. There are few places available to stream this, but if you find some means to do so then you are in luck. The gags may sometimes be a bit extreme, but there's no denying that this is one of the funniest slice-of-life anime out there.
SAKAMOTO DESU GA?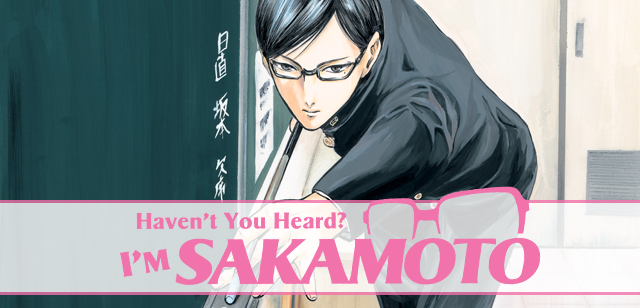 Sakamoto is the newest kid in school. Everything he does is cool, cooler and coolest! There's literally nothing he can't do. Want him to steal some prohibited videos for you without being noticed? That's no biggie for him. Want him to teach the school bully a lesson? Sure. Everything he does is sprinkled with the same amount of elegance and poise, such that even his enemies become his greatest admirers. This anime doesn't have too many laugh-out-loud moments but it will put a smile to your face. Watching the supporting cast purpose to change their ways due to Sakamoto is very heartwarming. Sakamoto himself may not be that compelling of a character, since his abilities are more 'developed' than he is, but that won't hinder you from enjoying this cute little show. It's only 10 episodes long so it can be completed rather quickly.
NO MATTER HOW I LOOK AT IT, IT'S YOU GUYS FAULT I'M NOT POPULAR

Tomoko Kuroki is living in a world of delusion, thinking that her experience in dating-simulation will help her become popular in high school. Well, that doesn't work. See, she has a very severe case of social anxiety disorder which makes it hard for her to strike a conversation with just about anyone. The entire anime is built around her antics as she takes up activities that will help her open up and become more popular. From holding nightly conversations with her sarcastic younger brother to buying new panties, Tomoko tries it all. You will experience different kinds of emotions watching this. The cringe will eat you up each episode, as you watch Tomoko try her best to make new friends. You will also laugh hysterically as she tries and fails over and over again. However, you will be crying buckets as you find out that she is just a naïve 15-year-old girl who does not want to be lonely anymore. Tomoko is truly one of the most complex main characters I've come across and even if you will not like her, you will at least empathize with her struggle.
DAILY LIVES OF HIGH SCHOOL BOYS

This anime is very similar to Nichijou, only that it focuses on high school boys instead of middle school girls. Each episode consists of various shorts depicting the boys as they hop from school life to their extra curricular activities. There is no saving the world here (well, except for a rather bizarre Gundam cameo). The gags are a bit outrageous here, as they are in Nichijou, but you will find yourself laughing more often than not. The main characters are well written and each is given his own personal quirk to make the show even funnier. If Nichijou is too weird for you, Daily Lives of High School Boys may be right up your alley.
ONE PUNCH MAN
One Punch Man is a classic parody of the superhero genre and shounen anime. Saitama is the most powerful man in the universe. He started out as a hero for fun, but he become so powerful that he gets no enjoyment from his heroics anymore. In fact, he is so powerful that he is able to defeat any and all enemies in a single punch (hence the title). You might think that such a premise gets stale after a while; after all, we know how every single fight will end. However, that is not a problem. The anime spends a lot of time developing its supporting cast and Saitama only ever comes in as a deus ex machina of some sorts. Genos, Saitama's disciple, is the closest thing you can get to a traditional fantasy protagonist which forms part of the subversive genius behind this anime. Saitama, too, is very well written – even more so than many shounen protagonists. This anime has lots of laughs, great fight scenes, and a powerful and inspiring message behind it. Twelve episodes is not too long but you might find yourself limited in how you can watch it.
HETALIA AXIS POWERS

Hetalia Axis Powers is full of clichés and stereotypes but none of them are offensive. This anime utilizes the most bizarre stereotypes about world powers to create gags about politics on an international scale. It's even funnier when you add the backdrop of Cold War era and WWI/WWII era politics. But then again, this one isn't for everyone. If you don't want to see the stereotype of Italy being bullied by France and Germany, you might want to sit out of this one. However, if you want to have a good time and watch people do a bunch of stupid things, then this is the right anime for you! Each episode is 5 minutes or less and the anime is available in multiple streaming sites. I have included a link to Crunchyroll, but every single episode is available on YouTube as well.
MOB PSYCHO 100
If you like The Disastrous Life of Saiki K. and One Punch Man, then you will definitely enjoy this quirky little anime. Shigeo Kageyama, aka Mob, is a middle school boy with insane psychic powers. He is too powerful to let his abilities run amok so he checks himself bu locking all his emotions away. Things only get tough when he reaches 100% of extreme emotions, and his powers pour out while rendering him unconscious. Mob Psycho 100 is written by the same talent behind One Punch Man but boasts stronger storytelling and more complex characterization. The art style might be a bit jarring and weird, but it adds to the quirkiness of the story and, in some scenes, defines the humor. You will want to watch this for the pure creativity behind the cinematography, characterization and fight choreography. Mob, too, might become one of your favorite anime main characters due to his sweet and innocent nature.
Have you watched any of the anime listed above? If you have watched more than three, which one was your favorite? Remember, a great way to discover even more shows is by clicking the 'Recommendations' tab on an anime's MAL page. This list only features those that I have seen but there are many more out there. Happy watching!