Release Date: 2016.02.23
Tracklist:
1. Drip Drop
2. Press Your Number
3. Soldier
4. 벌써 (Already)
5. Guess Who
6. One by One
7. Mystery Lover
8. Sexuality
9. 오늘까지만 (Until Today)
10. 최면 (Hypnosis)
Total Runtime: 00:37:25
Recommended for: Dance pop, R&B, and/or ballad lovers, Shawols
NOT recommended for: Rap or hip hop fans
SHINee's maknae Taemin is back with his second solo release and first full length album Press It. And boy, is he BACK. After making a strong solo debut in 2014 with his mini album Ace, Taemin's second effort arguably surpasses his first as he maintains his mature, dark persona while still showing some of Shinee's quirky image. Press It contains 10 songs in total, with the title track being "Press Your Number." There are a lot of big names attached to the production of this album including Bruno Mars, the Stereotypes, Teddy Riley, and even fellow SHINee member Jonghyun. Even more impressive, Taemin himself worked on writing the lyrics for some of Press It's tracks. The end result is an album that is an interesting mix of pop-based dance tracks and slower, but still powerful, ballads. So without further ado, let's find that play button and "Press It" as we dive into Taemin's album.
1. Drip Drop
Drip Drop was first track on the album to be released and with a fantastic performance video to boot. It combines key features of Taemin's music: his sultry voice and dance beats so fast only he could dance to them. The song features the talents of underground R&B and Hip Hop artist LiVii as the backing vocals. Her sweet feminine tone combines with Taemin's deeper vocals to create a light but still impactful sound on the track. The closest thing you'll find to a rap break on the album appears in this song with Taemin's almost rap that occurs in one of the versus and is layered with his singing to create an interesting sound. Additionally, the background instrumental of Drip Drop is definitely unusual and something you don't hear often in Kpop with its strange combination of snaps, drips, electronica, and brass. Overall, the song, though catchy, does sound a bit like one that is meant to accompany a performance, rather than a song written with choreography made for it as an afterthought.
       2. Press Your Number
Press Your Number is Taemin's title track of the album and features lyrics written by Taemin himself, with the help of Tenzo and Tasco. Bruno Mars, Philip Lawrence, and the Stereotypes all had a hand in producing this edgy track that mixes electronica with R&B. This song does an excellent job of balancing the slower, calmer verses with the explosive chorus layered with pop beats and Taemin's own vocal harmonies. While the production value across the Press It album is stellar, this track particularly shines with its subtle buildup and lack of over-saturated effects that sometimes overwhelm Kpop songs. There's also quite a bit of English thrown into this song, but the English lyrics and their meaning agree with the tone and vibe of the track and blend well with Korean lyrics. And let's be honest: who doesn't want to hear Taemin croon, "I'm feeling freaky" while "Press Your Number" is playing on full blast.
       3. Soldier 
Soldier is the ethereal ballad of the album, combining Taemin's softer vocals with his power notes during the impactful bridge of the song. Besides this interlude, the song is very gentle and features a piano as the main point of the backing track. The lack of complicated instrumentals allows Taemin's voice to take the focal point of the track, and he uses his voice like an instrument in itself, especially during his angelic harmonies. The song is truly beautiful in its simplicity, or perhaps because of it. Another notable aspect of "Solider" is that Taemin is credited as the song's sole lyricist. The fact that he played such a key role in creating this standout song makes it all the more special. Perhaps because of this connection, the emotion expressed by Taemin through his singing in this track feels very real and intense.
       4. 벌써 (Already)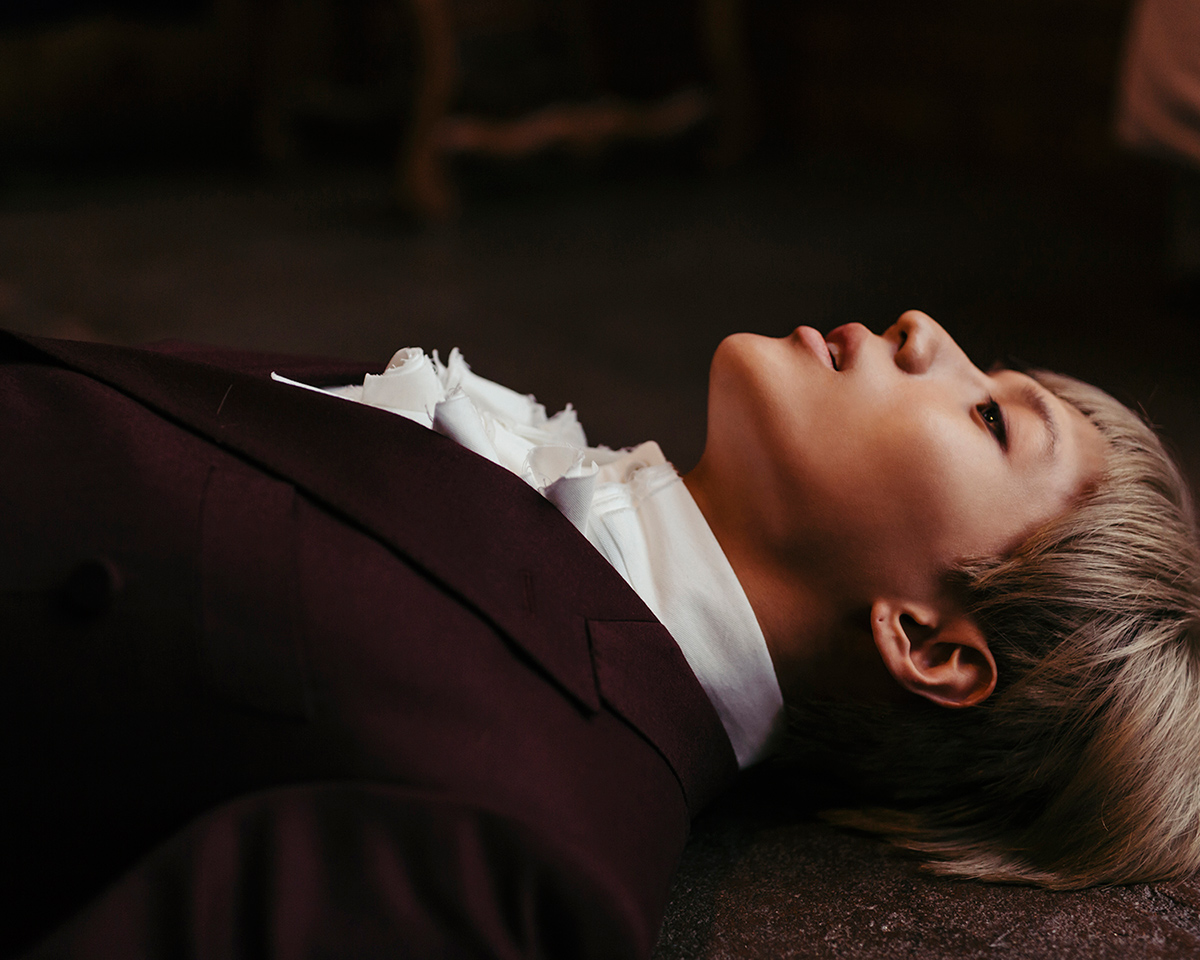 Onto the fourth song of the Press It album: "Already," as it is called in English. This track is a hybrid pop-ballad with a bit of a 90s boy band vibe to it. This is in part due to the piano coupled with drum beats and a synthesizer in the background of the song. Fellow Shinee member Jonghyun helped with both the writing and production of this song, amongst other professionals in the music industry like Teddy Riley. "Already" contains a rather repetitive chorus of Taemin belting "Beolsseo" with overlays of his vocal harmonies. The verses are much softer in comparison but there is a powerful build-up to the final chorus in the bridge and the song flows well across parts. There is a notable lack of English in this track as well, in contrast to the earlier songs. Perhaps not the most interesting track on the album, but enjoyable nonetheless.
 5. Guess Who
Enter the grittiest, dirtiest track of the album: the masterpiece that is "Guess Who." This is the most Shinee-sounding song of Press It, perhaps because it is so different from the typical pop beats of a normal Kpop song. The song starts with a rather attention grabbing scream and gunfire accompanied by a guitar in the background. It then transitions into Taemin singing along to a pop-rock hybrid beat. Interestingly enough, the majority of the actual singing in the song is rather low and soft, excepting the pre-chorus build up. This adds to the mysterious, dark sound of the song that it so effectively portrayed by the combination of Taemin's voice and the instrumental. Overall, "Guess Who" is one of the standout songs of the Press It album and easily one of the most recognizable.
6. One by One
"One by One" is Taemin's sixth song of the album. The song is a rather slow R&B track but has an interesting repeating element of an electric guitar in the background that makes it less typical of a soulful jam. Repetition seems to be key in this song considering Taemin repeats the phrase "one by one" again and again throughout the song, but you won't find any more English further than that. His classic harmonies really only enter the song during the chorus, leaving the verses very simple, which allows his voice in its singularity to shine.. It's overall a very light and soft song, excepting the bridge and Taemin's ad-libs at the end. The tone is a rather jarring change considering the dark, edgy elements of the song that preceded it on the album, but it's a beautiful track nonetheless.
 7. Mystery Lover
"Mystery Lover" is the ninth track on the album and it lives up to its name with its dark, mysterious sound. This is due in large part to the use of a music box-esque instrumental and Taemin's ethereal vocal harmonies during the chorus. The track is quirky and eerie but it still maintains the mature and professional sound of Taemin's music. Rather than the music box giving the song a playful quality, it adds an almost dangerous or threatening aura to the track.  Much like clowns and children in the context of horror movies can be frightening, this song takes a seemingly innocent and youthful quality and molds into something darker, and that is a sound you don't hear often enough in Kpop. Another standout track from the album in my opinion; I'd give it a listen if only to hear Taemin sing, "Why am I sleeping alone?" into your ear. Goodbye maknae image.
8. Sexuality
Introducing Kpop's new official sex anthem: "Sexuality," which is Taemin's eighth track of the album. (Speaking of abandoning a maknae image…) I'll be honest, this was one of those Kpop songs where I had to look up the English translation to be sure "Is that really what he's singing about?" and yes, yes it is. Besides the lyrical content being something not often expressed so blatantly in Kpop, this song is unique in its bizarre combination of drumbeats, 80's synths, and electronica. Rather interestingly, there is an instrumental interlude during the latter part of the song that is noticeably absent from other songs on the album. This song carries the same dark sound present in some of the other tracks but it is slightly more pop-based and funky, especially during the chorus.  "Sexuality" is definitely a memorable track, looking at if from either the production or thematic perspective of the song.
9. 오늘까지만 (Until Today)
"Until Today" is the penultimate song on the Press It album. This hybrid R&B and ballad track is soulful enough to show off Taemin's vocals but with just enough pizazz that it can't quite be classified as just a ballad. It begins with the plucking of a guitar and then Taemin begins his singing. It's interesting to note that Taemin uses his higher register more in this song than perhaps any other on the album. He uses his voice almost as a background instrument in this track rather than a harmony; it's a softer sound in the recesses of the song. The instrumental definitely doesn't overpower in this track and while it is a bit unusual in its stylistic disparity, it suits Taemin and his image.
10. 최면 (Hypnosis)
The final song on the Press It album is named "Hypnosis." This track is a pure ballad and lacks some of the experimental, unique sound that was present in much of the earlier tracks. That being said, it is still a beautiful song and showcases Taemin's vocal ability very well, perhaps better than any other song on the album. The instrumental is comprised mostly of piano and string instruments with some softer synths. To be quite honest, this song would be right at home on a Kdrama OST. The verses slowly build up into the powerful vocal performance Taemin shows in the chorus, but it lacks the harmonies he uses in much of his other songs. If the more unique tracks on the Press It album were more your personal music preference you may lack interest in "Hypnosis," but anyone who appreciates a good ballad will enjoy it.
I was so impressed with Taemin's first mini that my expectations were almost impossibly high for his full album- and he still didn't disappoint. Press It is the perfect blend of quirky pop-electronica songs and ballads. And while the styles of the tracks differ too much for the album to feel entirely cohesive when played in one go, this ensures that there's bound to be a song that appeals to everyone that listens. Taemin does the SHINee name proud with this album by continuing to produce a unique and recognizable discography. Overall, Taemin's Press It is a fantastic effort and an album that I have been, and will be, replaying for a long time.
---
Replayability – GREEN
The album has been on repeat since it dropped and is staying there for a long time to come
Cohesiveness – YELLOW
The style and sound of the music differs noticeably when transitioning between some tracks
Originality – GREEN
Almost all tracks on the album contain a unique sound and style