K-Pop, as a genre, is so much more than catchy tunes and weird, flashy clothes. There's a whole story to be told when a group makes their comeback, and the best way to do this is through concepts. A well-made concept not only represents the idea of the album/single but should ultimately give an impression of what an idol is all about. K-Pop fans generally care about the concepts just as much as they care about the actual music. So without further ado, here are the Press Team's picks for our favorite K-Pop concepts:
---
Sansa:
Red Velvet – Perfect Velvet/The Perfect Red Velvet
Red Velvet is the reigning K-Pop concept queens. That is an undisputed fact. It's hard to find a K-Pop girl group among those currently active that has such a large repertoire of concepts. From a fruity summer concept to a doll factory, to all variations of horror under the sun, Red Velvet has done it all. Given such a large selection, it's hard for me to choose which one I love the most. I was eventually torn between two iconic eras: Ice Cream Cake – which gave us the double knockout combo that was "Automatic" -> "Ice Cream Cake" – and Perfect Velvet/The Perfect Red Velvet – their most successful era internationally. Eventually, I decided to go for the latter.
(The) Perfect (Red Velvet) was the first era since Ice Cream Cake that was so well integrated, from the music to the styling, to the general feeling of the concept. All aspects of this comeback were so well blended together into a perfect harmony like I've never seen for a K-Pop girl group. It was obvious that SM intended to go all out for this comeback. I mean look at these teasers. Red Velvet served a masterclass in how to properly tease an era that no other girl group has managed to challenge after all these years.
While Red Velvet always found success with their Red side, their Velvet side often fell under the radar. "Automatic" and "Be Natural" were both promoted singles, but neither was given the type of PR one would expect for a title track. "One of These Nights" was the first Velvet era – following The Red's massive success – but it failed to propel the group to new heights and Red Velvet was soon left behind by fresher girl groups. The Velvet side had a long history of flopping digitally- despite a strong international response – that many were convinced Red Velvet would never try a Velvet concept again. So it was to everyone's shock when we got the first teaser for "Peek-a-Boo", which hinted at the first Velvet concept in over a year.
Even after all this time, it's hard to explain what made this concept work so well. Maybe it was the novelty of having a Velvet concept given the same amount of attention as a Red one. Maybe it was because of an expertly crafted RnB album. Maybe it was because of the fashion or maybe it was because this was Red Velvet's first sexy era.
What "Peek-a-Boo" started, "Bad Boy" escalated to new heights. "Bad Boy" redefined what we thought of as sexy or girl crush. Red Velvet even managed to deliver an international and domestic smash hit – which was thought impossible for the Velvet side. Best of all, however, was the newfound attention Red Velvet got from critics around the world. To this day, Perfect Velvet is considered to be one of the greatest K-Pop albums of the 2010s and "Bad Boy" is repeatedly marked as one of the best K-Pop group singles. It makes sense, though. Their best era also gave us the best Red Velvet (and one of the best K-Pop girl group) album of all time so it's not shocking.
It is no wonder that this is their most critically acclaimed era to date. Not even their most recent hit "Psycho", another Velvet style song quite similar to "Bad Boy", has enjoyed the glowing press that the "Peek-a-Boo"/"Bad Boy" one-two-punch era served.
2019 proved that SM is not afraid to push boundaries with Red Velvet but I want to see them go even further. Can they give us a Red concept with the level of flawless execution similar to this? A mature summer song with a strong, cheery concept could do wonders for the group. Anyway, in all my years as a K-Pop fan, no idol group concept has given me quite as much excitement as (The) Perfect (Red Velvet) gave me two years ago – and I don't think any will for a long time.
soft:
LOOΠΔ – XX & Lovelyz – A New Trilogy
While both groups were known for their cute/innocent concept at debut, both proved that they have more to show with these two releases.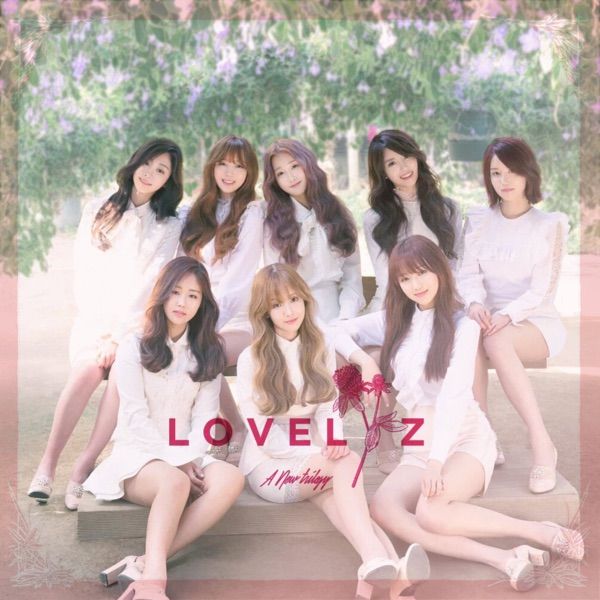 Lovelyz was known for their schoolgirl/cute concept for a while but with the release of A New Trilogy, they showed a new side of them. The title of the album alone got the fanbase excited for the new chapter in their career. This was solidified with the release of their album preview. The release of the title track, "Destiny", made a huge impact for them in the public's eye, and they became the talk of the town for their live performances and Easter eggs due to their stages being planned based on the phases of the moon. The concept was a rarity. The cinematography of the music video connected the song, lyrics, choreography, members and the listener to the story. It was a concept that only Lovelyz could do. Unfortunately, to this day they have yet to retouch this concept.
LOONA, after a debut with mixed reactions, came back with their repackage album XX, switching their concept completely. With the release of the teasers, they created anticipation because of the mysterious concept and their throwback to previous songs such as "Let Me In" by HaSeul and "Sonatine" by LOONA ⅓. The release of the title track, "Butterfly", exceeded every expectation with the beautiful mission of going beyond gender, race, and nationality. The cinematography of the music video was stunning, showcasing different sides of the world and their culture without crossing boundaries, proving that the group can maintain their concept switch policy even after the full group's debut. The live stages were breathtaking, as the choreography was something you wouldn't expect to see from a girl group, but with a drop of elegance that only LOONA could pull off. Not only that, but it also showed the beautiful vocal harmonization between the members which was unfortunately not as present in their most recent comeback, #.
SLY:
VIXX – Shangri La & Chained Up
This article will be sh*t and invalid should we not include the actual Kings of Concepts themselves. Let me do the honors in blessing you all with VIXX's best: the Traditional Korean Concept, and my personal favorite, the BDSM Slave Concept.
VIXX has been noted as the most prominent idol group in history when it comes to groundbreaking and unique concepts. From superheroes, vampires, Jekyll & Hyde, voodoo dolls, cyborgs, Greek gods, to perfumers – VIXX never disappoints in bringing something new to the table. However, as said above, their best has got to be when they wore hanboks and danced to the traditional Korean sound.
Before Shangri-la was released, many people were quite ambiguous about VIXX's direction after VIXX 2016 Conception. The trilogy depicting a story of Greek gods seemed too high a standard that even VIXX themselves won't be able to outdo. Alas, right as the first teaser photo was released, VIXX exceeded expectations.
The Shangri-la era is truly where VIXX shined the most. Their performance during MBC Gayo Daechukjae gained MILLIONS of views and became the first trending topic of 2018. Coincidentally, during the same year, Korea would be hosting the Pyeongchang Winter Olympics which led protests from Korean netizens to send VIXX as performers during the opening ceremony. The video of their MBC Gayo Daechukjae performance got a million views in just days, a feat that is very rare in the history of Naver TV. The top comment "Just send them to Pyeongchang" got 21,000 upvotes.
While they didn't get to perform during the opening/closing ceremonies. They were invited to sing "Shangri-la" in an event for the International Olympic Commission in front of Korea's President Moon Jae-in and other high-ranking officials from all over the world. The reason VIXX got so much praise and attention for Shangri-la is because they modernized Korean traditional music and made them suit the tastes of younger people. They were able to preserve and incorporate the sound of a traditional Korean song. They wore a modernized version of Korea's national clothing conducive to dancing and even used fans (the ones used by the hand when it's hot) which is a vital element in Korean traditional dances.
The other VIXX concept I mentioned is Chained Up's slave concept. They wore chokers, chains and coats without any undershirt; did body rolls in their choreography; released "slave contracts" for each of the members; and impressed with their unmatched talent and visuals. How can I not mention such a nationwide craze?
Jiyo: WJSN – The Secret / Dream Your Dream / WJ Please
From magical students to space goddesses, WJSN has explored the whole realm of sparkly magic concepts. Even before their debut, the image of the group was set – they're, after all, called "Cosmic Girls" -, but it wasn't until their first comeback with "Secret" that they've formed the identity for which they're known until today.
"Secret" was an important step for WJSN. Not only was it their first comeback after a lackluster debut, but it was also the introduction of a new member and Produce 101 contestant, Yeonjung. With that in mind, Starship pushed their cosmic concept to the maximum, creating one of the most creative and beautiful music videos K-Pop has seen. The outfits, the songs, the first "Secret Film"…everything came together to tell a story. With the eerie visuals and the witch-like elements mixed with futuristic scenes and synth-pop beats, WJSN delivered a mysterious and engaging comeback that defined their image.
The girl group continued their cosmic concept, fulfilling the dreams of every K-Pop fan that also loves magic girls anime; they became memorable colorful aliens in "I Wish" and even retro circus magicians in "La La Love". But it wasn't until "Dreams Come True" and its continuation "Save Me Save You", that WJSN truly won in their own game.
"Dream Your Dream", WJSN's last comeback with all thirteen members, was very elaborate from the start. Fans were teased with a Hogwarts-esque concept, in which the group was separated between 3 different grades with different purposes and Greek names. "A dreaming heart makes impossible possible", says member Bona in this era's secret film, synthesizing the core of WJSN's concept. All of that, combined with the song and a very mysterious and yet epic music video, was the first step into a two-part story that continued with "WJ Please", showcasing normal girls entering a world of endless possibilities through space and magic.
In the music video of "Save Me Save You", WJSN's magic school is finally portrayed on screen and the magic mentioned but shyly shown in "Dreams Come True" appears here in full force. The group progresses with the story, delivering a powerful choreography that's more sensual than anything WJSN had ever done until then. It's when the characters of Cosmic Girls finally reach their magic that the members get to show a different side of themselves, finding power in embracing their femininity and accepting the out of space magic we all have inside of us.