Dramas range from a variety of genres, yet all contain a few clichés that can put viewers off them instantly. This drama, from afar, looks laced and entangled in clichés that'd make it a carbon copy of the many other dramas that are being pumped out like manufactured scripts. My initial judgement and thoughts before I'd even started the drama were highly contradicted. However, as each episode progressed, I had never been so happy to be proved wrong.
Japanese name: 好きな人がいること
Genre: Romantic comedy
Channel: Fuji TV
Number of Episodes: 10 episodes
Episode Length: 46 minutes
Main Cast: Mirei Kiritani, Kento Yamazaki, Shohei Muira and Shuhei Nomura.
Recommended for: Watchers who believe food is the way to a person's heart; romantics in general. Reverse-harem enthusiasts would also enjoy this drama – all in all, people who are looking for a heart warming, soft and calming drama to watch as they unwind and relax.
Not Recommended for: Watchers who enjoy action-packed intense scenes, or live off the adrenaline rush of crime and mystery.
---
Drama Summary:
Our main female lead, Misaki Sakurai, is fairly career orientated and spends every day of her life living and breathing baking. Her dream is to climb up the intimidating rungs of her career ladder until she can establish her own business as a patissier. However, horror befalls her one day when she gets begrudgingly fired from her job in a bakery. After being rejected from a position in a high end hotel due to her inexperience in romance, she's at the end of her tether. So when love and an opportunity for the job of her dreams comes knocking at her door in the form of her high school sweetheart, Misaki couldn't be happier.
However, the job is hours away, and in order to partake in it, she'll have to move out. This seems like not too big of a deal, right? Except the expenses would be impossible to cater for. When her high school crush offers to let her stay with him, she almost jumps for joy. That is, until she realises he lives with his two brothers; an overbearing pair that she'll quickly be acquainted with. Misaki is thrown into a thrilling ride of her life, where she learns more about herself and those around her. Along the way, she finds love where she least expects it.
---
Drama Review:
This drama, at first glance, looks like your typical shoujo manga. In fact, it lives up to the criteria needed of the particular category, but is so much more at the same time. This drama, unlike others, doesn't focus primarily on making an airheaded romance the sole drive of the show. In the first episode, Misaki is a cliché 'never been kissed' girl next door whose first kiss is stolen by a 'mysterious bad boy', Kanata. Sounds like millions of other plots, right? However, the show progresses to put so much more importance on the other aspects of every single one of the main character's lives. We're taken through the emotions and hardships of each main character, and come to an understanding on who they are by the show's 10th episode.
Now, don't get me wrong. I LOVE romance. However, one thing I dislike about many romantic dramas is the blatant obvious nature of who's going to end up with who. Where's the fun in starting a drama and knowing that the main girl is going to end up with the main guy because of the way they look at each other ten seconds into the first episode? Exactly, there is none. Predictable and obvious relationships personally make a drama seem fictional when watching, because a love as unrivalled as one forged at first site is impossible to attain in the real world.
Therefore, I absolutely loved the romance aspect of this drama. During the first episode, a love triangle is clearly apparent, but the viewers are then left in the dark, having an internal debate with themselves over who they want the leading lady to have her happily ever after with for most of the following episodes. Also, the person she does end up with isn't the man who she'd been crushing on for years; it was the man who understood her and related to her on many more levels than a simple infatuation could make two people bond. We see Misaki and Kanata's chemistry grow from their first, unappealing encounter into a blossoming and true love. Another thing I liked about this romance was that it wasn't heavily weighted on during the whole drama. Misaki would have romantic moments with both Kanata and Chiaki, and as a viewer I was able to appreciate both potential couples and root for both male leads.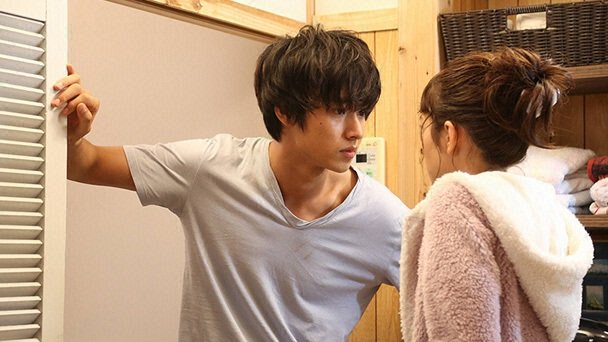 Another thing I enjoyed about this drama was that the secondary characters were still focussed on, and each character in this drama was developed very well for a ten episode consisting show. The pacing of the show in general was very well thought out and covered a lot of plot while being easy to keep up with. Characters that during the beginning of the show came across as enemies and love rivals – Kaede is a good example of this – were developed to come across as more humane and three dimensional for the viewer. Every action and decision a character made was justified, which made the show very easy to get attached to while watching. I personally went from viewing Kaede as a negative character to appreciating her and even rooting for her and Chiaki to end up together.
This drama also consisted of a beautiful soundtrack, which complemented it's luxurious, haven like atmosphere. The scenes in which the gorgeous scenery of the beach were matched perfectly with the harmonious drama track were a marvelling sight. This drama was both real and down to earth, but felt like a dream and paradise for the viewer watching. The thought of living with three attractive men comes across as a fantasy, but this drama poses the reality of the situation and both the happiness and sadness all the characters experience.
However, though many aspects of this drama were amazing, there were some that made it lack slightly. One thing I felt that could've been developed more was the three brothers fighting to keep their restaurant safe. Near the end of the drama, as the truth of Kanata's adoption comes out, we're faced with heart breaking scenes as he undergoes a blood transfusion to keep his mother alive. But the abrupt ending to this part of the drama seems like a loose end that wasn't able to be tied up. The way Kanata went back to daily life and moved on so rapidly halted the development of that particular plot line, and made it less believable for me.
Also, as the main antagonist of the drama had used his adoption as a valid reason to try and pry the restaurant out of Chiaki's hands, I wanted to see more development there too. His last words were only a foreboding omen which he failed to stick to as the series came to an end. As this series was only 10 episodes long, this may have been a reason why they had to cut these particular situations short – I'm not too fussed about it seeing as the development that did occur was still heartfelt and emotional to watch.
The conclusion to the drama was cliché, romantic and sappy, but I absolutely adored it. After keeping up with the tug of war that both Kanata and Misaki endured while trying to figure out their feelings towards one another and being ripped apart by reality, watching the main couple finally get their happily ever after was heart warming. I may have shed a tear or two, but that was just from the overwhelming emotions that radiated off the couple as they shared an emotional kiss. Although the ending wasn't a perfect happily ever after, as Misaki was still taking up her job offer in America and leaving Kanata, it was fulfilling and a nice way to finish off a great drama. It could've easily come across as cliché and simply too much but Kento and Mirei's acting was genuine and made the scene so personal you couldn't help but get swept up in their emotions.
---
Conclusion:
This drama is both a dreamlike watch that helps you escape to a haven-like scene where the rumbling waves of the peaceful shore relax you, but contains emotional and relatable moments in which you can easily empathise with the characters and reflect on your own life. It's an addicting series that leaves you wanting to see how your favourite character ends up and creates a bond between the audience and the actors. I would definitely recommend this drama for anyone who's looking for a sweet, uplifting and relaxing drama to get swept up in.