Chinese name: 帶我去月球
Director: Hsieh Chun-yi
Screenplay: Birdy Fong
Genre: Romance, (High School) Drama
Running Time: 1:45:00
Recommended for: Fans of 2015 hit romance film Our Times and those who enjoy romantic or play hard to get type of characters
Not Recommended for: Those who can't sit still at cheesy and romantic parts.
Starring: Jasper Liu, Vivian Sung, Vera Yen, Shih Chih-tian, Pipi Yao and Lee Chuan.
Plot Outline
Cheng-hsiang reunites with the members of his high school band and reminisces about their lead singer and his past love, En-pei, whose pursuit of her dreams ended in tragedy. He regrets having encouraged her to pursue her dreams all those years ago, wondering if she would have died if he hadn't done so. Drunk after the memorial and hit by a vehicle, Cheng-hsiang is miraculously transported back to the past, where he sets out to stop En-pei from making the same mistake.
Review
I did tear up in this movie, but not as dramatically as 2015's film, Our Times. It was frustrating to see Cheng-hsiang being unable to confess his feelings for En-pei, keeping it all to himself until the very last moment. Interestingly, the title of the film is a tribute to the song "Take Me to the Moon" by Chang Yu-sheng, which was featured on the soundtrack of the film.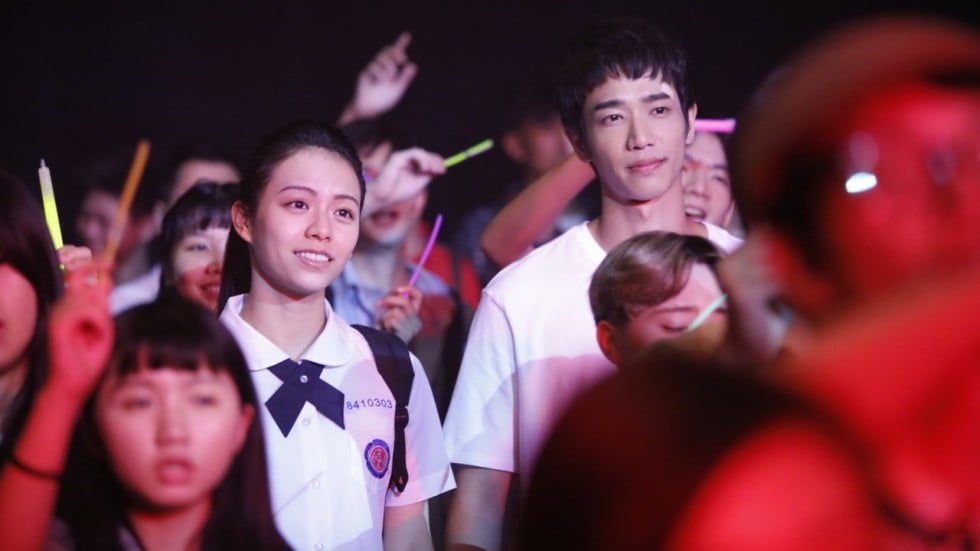 Plot
The film kicks off with Cheng-hsiang in Tokyo, Japan and in a train, on his way to look for his past love, En-pei. He finds her at the top of the building, doing a job as a cleaner as she was busy sweeping off the dried leaves. Surprisingly, Cheng-hsiang looks calm instead of being shocked. They had a conversation somewhere on the rooftop, with Cheng-hsiang asking her various questions, how she ended up being a cleaner instead of fulfilling her dreams as an accomplished singer. After all, she was handpicked by a famous singer in Japan through an audition and was set to become a singer in Japan. I feel that something must have went wrong after En-pei's first album was released and she seemed to given up hope on becoming a singer. Cheng-hsiang offers to meet her after her work ends but she brushes him off hurriedly, telling him that she has to practice singing in the evening and was unable to meet him. There was a suspicious aura around En-pei but I could not figure out what it was and contemplated on the possibilities that could be running through En-pei's mind.
Turns out, En-pei had a second job of handing out flyers out in the street while dressed in an anime character outfit. She seemed flustered and angry at Cheng-hsiang unexpected appearance and shrugged him off, telling him not to recognize her and ran away. Cheng-hsiang persisted and waited outside her workplace till she finished her shift.
I had troubles switching back and forth between the film's past and future and honestly speaking, it hindered me from enjoying the film properly. While he tries to stop En-pei from participating in the audition as he went back to the past from the future, I was thinking… it would make a difference but if the future has already happened, how would the supposedly 'new' future be like? Would En-pei be successful as a singer in Japan or would En-pei unexpectedly find another path and work from there?
There were many hilarious anecdotes throughout the film and some casual curses tossed in the film, nothing too dramatic that changed the plot entirely. Jasper Liu, aka Cheng-hsiang, looks like the Taiwanese version of Rain, the popular solo artist in South Korea. To be honest, the entire time I was thinking of that one person that resembles him and finally realized it was Rain, after reading reports that dubbed him to be the mini version of Rain.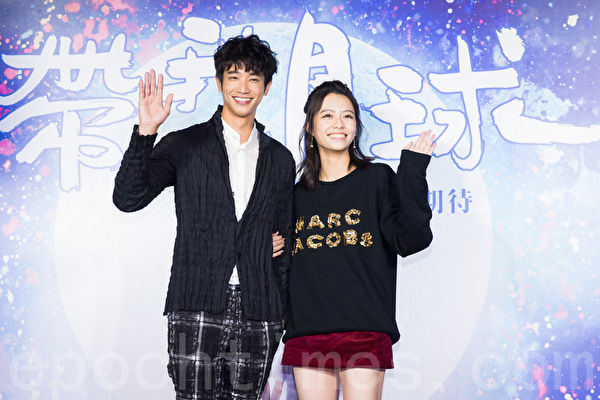 Final Thoughts
I was intrigued into watching this film as the local newspaper had rated the film 4 and a half stars upon 5 and Vivian Sung has once again featured in this film. Vivian was questioned on why she chose to star in a film that required her to don in a school uniform once again and she simply said that as long the plot of the film interests and relates to her, she's up for the role.
The ending of the film was quite perplexing but more open minded than I had expected. I heard a few murmurs on what an unexpected ending the film ended off with and someone said a really clear 'I don't understand' once the credits rolled out on the screen. I did not quite understand either but it leaves the inquisitive me to ponder about the possible endings the could have happened.
The movie is good and the ending is quite refreshing so definitely check this out!