The group OMEGA X applied for trademark rights before the agency to protect their name.
On the 7th, Omega X completed the trademark registration for 'Omega X' through the law firm S. Not only 'Omega X', but also 'PROTECT OMEGA X' and the fandom name 'FOR X' has been applied for trademark registration.
Omega X, which is in conflict with its agency Spire Entertainment, seems to have made a decision to keep the name 'Omega X'.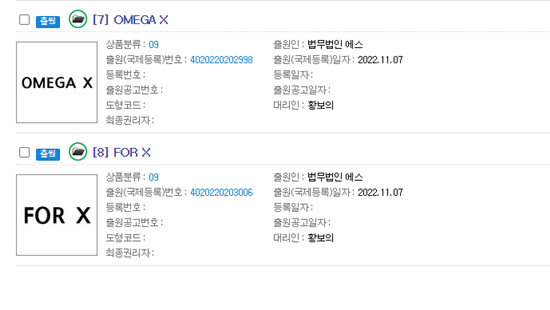 On the 16th, Omega X will hold a press conference at the Lawyer's Hall in Seocho-gu, Seoul. The legal representative explained, "We would like to explain the current situation and future direction."
Recently, Omega X has been embroiled in controversy over being assaulted and verbally abused by the representative of the agency during an overseas schedule. In response, Spire Entertainment explained that it was true that they have risen their voices after the US tour, but that all misunderstandings had been resolved through dialogue.
Due to the ongoing controversy, the representative of the agency announced his resignation on the 7th, but the remaining representative was known to be the husband of the CEO in question, raising concerns. Even after that, Omega X foreshadowed conflict by further exposing rumors of US detention and that the CEO was hiding the fact of some of the members being infected with Corona 19 and forcing them to perform on stage.
On the 6th, the members opened their own SNS account and said, "Maybe it will take a while, but we, Omega X, will protect FOR X and OmegaX with one heart and one mind. We will not step back as much as we have courage." I will do my best to stand on stage again with a good image in a good environment."