Genre: Visual Novel, BL, Mystery
Platform: PC
Release Date: November 30th, 2017
Warning: The content being reviewed is only fit for audiences over 18 years of age. Additionally, this game contains graphic depictions of gore, rape, and abuse. Play at your own discretion.
---
Back when Pil/Slash announced their collaboration with LOVE&DESTROY, there was no way of knowing what to expect. Was it going to be another Pigeon Blood? Were they going the Shingakkou route? Was I going to hate it? Was it going to be a freaks-only event?
All of these questions proved to be too much for me, so I just let Paradise go untouched. I wasn't planning to mess with it until I got some kind of confirmation on what the game was like. Pil/Slash more or less saying, "It's every guro lover's wet fantasy xD," didn't help much. A lot of people probably had the same skepticism since there was a long silence concerning Paradise in the English community. Even now, with an English Localization possibly in the making, discussions about Paradise are scarce.
In early 2018, the big Paradise wave came. There weren't any numbers to prove it, but the Japanese fanbase appeared to love Paradise. A few months after its release, its first fandisc was in the works and its second fandisc entered a crowdfunding phase. There was a quality dip there in spite of achieving over 1000% of its initial funding goal, though that's a story for another day.
The REAL weight of Paradise's popularity could be seen in Cool-B's 2019 voting results, and it's what ultimately convinced me to play it. The results of Cool-B magazine's 2nd BL Game Grand Prix came out last year's September. Paradise was ranked 3rd in the voting for the reader's favorite BL game. Also, wait for it… Azuma ranked 1st in the favorite main character category.
While I understand that Gian's votes were divided between the two incarnations of his character, Azuma winning against THE Giancarlo is pretty huge. As someone who feels an unreasonable need to stay up to date with popular games across the board, I played not one, but all three Paradise games. You know, like a clown.
Paradise: All The Routes and Endings
Now, the question this review aims to answer is this: did I want to kill myself while journeying through Paradise?
As a plus, I'll talk about what I liked and didn't like. If you don't need nor want spoilers, just don't open the spoiler tag and you'll be fine.
[spoiler]
Common Route
Azuma, our protagonist, is a part-time worker with an ever so monotonous routine to afford his rent. One day, on his way back home, he wins a trip to Togajima, a deserted island. Nothing stands out during the first days on the island. Unfortunately, things start going downhill after the ship with food supplies doesn't arrive on the third day.
With tensions at an all-time high, the traveler's reluctant peace breaks down following the death of our blonde-haired plot device character. The death is deliberate with arson as the cause. Thanks to a second death caused by a faulty lifeboat, the survivors are left traumatized and doubtful. No evidence pointed towards any specific traveler is found, however, it becomes clear that someone refuses to let them leave the island.
The survivors split themselves into two groups: the shipbuilding team and the food scavenging team. Matsuda leads the food group and Mitsugi the shipbuilding one. If the player starts Takara's route, Azuma makes his own one-person team to explore the parts of the island that haven't been searched yet.
Mitsugi
Enemies to lovers 100k word slow burn. Includes romance, comedy that makes you wheeze, and all of the feels. Mitsugi is a My Pace type of guy who prefers to be direct and can't be arsed with emotions. Although he acts mature and put together, he and Azuma turn into three-year-olds while speaking to one another, much to the amusement of everyone else.
How did this rivalry start, you may ask? These two bumped into each other on their way to the ship. That's it. They refused to apologize and began antagonizing each other instead. Whereas this is enough to fuel Azuma's anger, Mitsugi has other reasons that are brought up later.
If someone had told me Paradise would deliver a satisfying and committed take on the enemies to lovers formula, I wouldn't have believed it. The self-aware writing of the trope is something you have to read to believe. A BL writer with basic knowledge of writing tropes? Holy shit!
Highlights of the route include Azuma constantly breaking the fourth wall to ask himself "Why do I keep running into Mitsugi?" following player choice. Stop calling me out on picking the Mitsugi options! It's for your own good! (And my entertainment…)
As soon as Azuma chooses the shipbuilding team, Mitsugi makes it clear that he's the brain and Azuma is the muscles. Thus begins Azuma's not so happy life as a physical labor slave. As the brawniest in the team, the amount of work assigned to him is higher than anyone else's. Worth noting: Mitsugi is described as underweight yet is drawn with a solid six-pack… Logic, man.
Mitsugi tells the squad that it will be necessary to chop down half of the log houses for extra materials. Everyone chooses someone else to share a log house with, and Mitsugi picks Azuma while the latter despairs. The biggest plot twist comes when Azuma settles in Mitsugi's room and realizes it's the messiest room of all. He sees first-hand why that's the case once Mitsugi drinks from a water bottle and drops it on the ground. Bruh.
A day later Mitsugi catches Azuma sleeping on the job. Mitsugi decides to tie him up and take a picture of his morning wood to tease him. A very dissatisfied Azuma wakes up to some dick stepping, footjob, and handjob action. Because… Mitsugi's logic thinks it's a great way to humiliate him. (Fam… You're the one looking thirsty out here.)
After this Azuma's like bitch are you gay? What's your THOUGHT PROCESS behind this??? Which unlocks Mitsugi's anime backstory. As it turns out, some of Azuma's physical features are similar to those of Mitsugi's dead mentor, Kotohara. Due to this and the contrast between Azuma's and Kotohara's personalities, Mitsugi was annoyed by him. Fishing for details, Azuma discovers that Mitsugi is an orphan and Kotohara was like a father to him. Unfortunately, we don't unlock 80% of Mitsugi's backstory and inner thoughts until the next game. Spoiler: this bitch was mostly salty that he was feeling big gay for Azuma but he was obviously not going to confess that.
MOVING ON, thanks to unlocking Mitsugi's anime backstory, Azuma also unlocks the bonding moments™. Their trust in each other increases thanks to deep talks and subtly cute scenes like making origami together. Yes, you read that right. Origami. If I could copy-paste the entirety of Mitsugi's route here, I would. Trust me.
Sometime later Uchimura disappears and they find his corpse next to a cliff. Although it was positioned to make it look like he drowned, his neck shows clear strangulation marks. Upon discovery, the survivor group is big shooky and everyone starts doubting each other. Anyway who cares that asshole died? Time for bed-sharing scenes, nightmares, and half-fucks. Did both Mitsugi and Azuma cum from just the tip? Yes they did.
Hahaha I didn't need my heart anyway. Go ahead and stomp all over it, Azuma.
Shimada disappears the next day…… but who cares when you can jump back to the romance following a dramatic day, am I right? Azuma and Mitsugi frick again and finally realize the sexual tension is ~mutual~. Let's clap a bit for them, we've been riding this slow burn for at least 12 hours by now. Now if only they found out their ~feelings~ are mutual too, that would be PRETTY FUCKING RAD.
Azuma and Mitsugi don't even get any post-coital bliss as Takara bangs the shit out of their door. They're unintentionally really obvious about the fact they just fucked but Takara's like okay we're gonna unpack that one later because KIDO IS GONNA KILL HONGOU GUYS!
The three of them rush to Hongou's cabin and see Kido holding Hongou at knifepoint. Kido argues that Hongou must be the traitor, thus killing him is the answer to save them all. The route branches out here and Azuma can get either a very good ending or a very bad one based on his trust in Hongou and his trust in Mitsugi.
GOOD ED: Mitsugi bluffs to calm Kido down, but back in his cabin he admits it's true that Hongou is the most suspicious survivor. He IS the tour guide after all, and the traveling company that took them to the island would have to be in on the plan to leave them stranded. He also tells Azuma about the contents of the notebook he found during the Common Route: it details the deaths of the villagers who previously resided on the island. The deaths of the travelers so far match the recorded ones, implying the killer is trying to emulate them.
A day later, Azuma and Mitsugi are working on the boat together when they spot Hongou close to Mitsugi's notebook. Hongou is visibly nervous after being found out and makes up an excuse to leave quickly. To Azuma's surprise, Mitsugi's demeanor changes after inspecting the notebook. Azuma's worries are brushed aside so he plays along and keeps working on the ship. However, Mitsugi burns the notebook on the beach and continues refusing to reveal what Hongou wrote in it. He does a horrible job of pretending nothing is wrong by following and keeping watch over Azuma throughout the entire day. Azuma gives up on asking about the notebook after Mitsugi's eternal silence and goes to sleep so that Mitsugi will stop hovering over him.
Azuma wakes up the following morning and realizes Mitsugi is gone. A trail of smoke leads him to the beach where he spots Mitsugi burning their ship. Which, to make things worse, was close to completion. All the other survivors gather and go bitch WTF. On the other hand, Mitsugi confirms he burned the ship while looking as calm as ever. Azuma is clearly not having any of that so he's like fuck this shit we're OUT and drags Mitsugi away, running like a madman LOL.
Once they're all out of steam the two of them stop and Azuma continues his interrogation about the notebook. Azuma pulls a strong "Do you not trust me?" card which makes Mitsugi spill the deets and of course he didn't want to say all of this happened because big gay. It turns out there really was nothing written in the notebook. Rather, there was a note stuck between its pages. "If you want to protect Azuma, burn your notes and the ship."
The first thing Azuma's brain does is interpret everything that happened as his FAULT ლ(°益°ლ). Does his lack of self-worth ever become less painful? The answer is no. Mitsugi, in turn, clarifies it wasn't BECAUSE of him, it was FOR him!!! There's a difference!!! GAY RIGHTS™
Mitsugi tells Azuma they should just return to the others since they can't keep running away forever. Azuma wants to do something for Mitsugi too, so he decides they'll take on whatever punishment Mitsugi gets together.
The two are locked up in an underground confinement cell and have meals delivered daily. There's another scene where Mitsugi has to spell out that Azuma was his gay awakening due to Azuma thinking Mitsugi only likes him because he reminds him of Kotohara. Mitsugi's like WHY WOULD I WANT TO BANG MY FATHER FIGURE? That's NASTY I'm GAY for YOU ಠ_ಠ
Here's where the mystery plot kicks off again with a bloodied Hongou showing up about a week later. He collapses in front of their cell while trying to free them. Mitsugi and Azuma manage to reach the keys and make their way to the surface, where they're greeted by flames threatening to consume the island whole.
As the two make their way to the beach, they run into Takara. He offers wishy-washy explanations on Matsuda's and Hongou's whereabouts and accuses Azuma and Mitsugi of being suspicious. A burning tree chooses that exact moment to fall on top of Takara and Mitsugi; Azuma obviously chooses to save the latter. Takara avoids the threat and sends Azuma a butthurt look before running off on his own.
After arriving at the beach, Mitsugi and Azuma are conveniently found by the helicopter of a rescue team. One of the team members explains that Azuma's coworker, Ogino, reported his disappearance. We get a final moment of Azuma being insecure about where he stands with Mitsugi, asking if he'll meet him again LMAO. At this point, our poor pal Mitsugi just sighs and probably considers tattooing FULL HOMO on his forehead to get his message across.
Azuma admits that in the beginning, he wished the ship wouldn't come for them because their life on the island seemed like paradise compared to his life in the mainland. Mitsugi responds that paradise is something everyone has to make themselves. Cue a cheesy then help me make it and you can live in it 😉 from Azuma and an agreement from our local disaster Mitsugi.
BAD ED1: Happens if Azuma admits to doubting Mitsugi. As an outcome, Azuma constantly asks himself if Mitsugi could be the killer.
The group decides to lock Hongou in a cabin every night due to Kido's outburst. In the following morning, Mitsugi and Azuma find an unrecognizable corpse in the cabin. Azuma tries to find everyone else but they're nowhere to be found. Later, he notices that Mitsugi also disappeared while he was gone.
The day after, Azuma finds Mitsugi's deathly pale body lying on the beach. The killer had impaled a knife in the middle of his chest. Mitsugi inquires where Azuma had been, suggesting that Mitsugi was looking for him when he got stabbed. Azuma sobs while Mitsugi tells him not to cry and work on the boat instead. The ending abruptly ends with Azuma still sitting next to Mitsugi's corpse at night, implying that he might stay next to Mitsugi until his own death.
BAD ED2: Azuma and Matsuda work together to wrestle the knife from Kido's grip. Azuma accidentally kills Kido in self-defense and then runs away. He finds Shimada's dismembered body and is found in turn by Hongou, who accuses him of Shimada's murder. This distrust makes Azuma paranoid and he eventually kills everyone on the island with the exception of Mitsugi (and Takara, who ran away). After Mitsugi snaps him out of it by explaining that he's now a murderer, Azuma kills himself due to the fear of losing Mitsugi's trust. Mitsugi cries over his death, and Azuma thinks to himself that he's glad he could die for someone else's sake.
I didn't go into detail about this ending but once again, you did it! You broke me!
BAD ED3 (HONGOU END): Big surprise not really a surprise time, Hongou's evil. Hongou asks Azuma to help him, who agrees because he's a naïve moron. He rapes Azuma under the orders of a mysterious "him". All the while, he talks about Azuma's "pussy" and "panties"… I had to mute the game. Since Hongou's straight, he can't get it up so he leaves to "get some help". He comes back with KIDO, what the… That's the real plot twist here!!!
Needless to say, this ending is shit and I couldn't take anything Hongou said in the next routes seriously. The only thing worth remarking is a conversation between Hongou and Kido. Kido asks Hongou if he can really meet "him" after helping, and Hongou replies that "he" will be eager to thank him in person.
Matsuda
That one motherfucker who seems really sweet in the beginning but then becomes the biggest, ugliest shit stain ever seen in history. He goes from a caring partner who's all about consent to a violent rapist. Not only is he irredeemable, but his entire route is a narrative clusterfuck. On one hand, I wish I hadn't played Mitsugi's route before Matsuda's since it left me with nothing to bleach my eyes with after. On the other hand, if I had played this trash first I'd have rage quit halfway through and thrown the game out a window.
From the start of Matsuda's route, you notice that he's the complete opposite of Mitsugi. While Mitsugi's room is a shithole, Matsuda's is spotless due to his fixation on cleanliness. While Mitsugi can't be arsed to babysit the other survivors, Matsuda is a figure everyone relies on. While Mitsugi is hostile towards Azuma, Matsuda is caring and friendly. Even subtle differences, such as Mitsugi's strict attire against Matsuda's casual look, paint the two as polar opposites.
Of course, this is where the plot twist lies. 'Not everyone is as they seem' is a recurring theme in Paradise, and Matsuda's route even spells this concept out for you. Explicitly, through dialogue.
Mitsugi, who appears strict and closed off, trusts Azuma wholeheartedly, opens up to him, and never lies. Matsuda, who appears amicable and trustworthy, closes off, refuses to trust Azuma, and gets his way with violence. While Mitsugi shows concern and sympathy for Azuma's abusive past and serves as a psychological anchor, Matsuda beats him down, triggers his trauma and uses it against him.
Mitsugi's route concludes with Mitsugi and Azuma leaning on each other to become better. Matsuda's route concludes with Azuma thinking to himself that Matsuda is trash but he'll stick with him anyway. The story is honestly a disservice to Azuma in every way.
Analysis of why Matsuda is a dumpster fire aside, below is a summary of this… thing.
Initially, Matsuda is the dependable guy that everyone relies on. His sense of duty leads him to take charge of food management and distribution. This backfires on him spectacularly after he tries to expose a food thief. He spots Kido taking something from the warehouse, thus he attempts to subdue him and check his pockets for food. The struggle becomes too violent and Kido receives a strong blow to the head. During a group meeting, Kido makes people doubt Matsuda, and the stolen food is found among Matsuda's things. A day later, Kido passes away in his sleep due to a concussion.
The string of unfortunate circumstances makes the group distrust Matsuda. His job as a warehouse manager is taken over by others, and Azuma, the sole Matsuda apologist, is the only person who willingly interacts with him. Following an encounter where Matsuda sees Uchimura stealing food, he takes back his management position by force and uses violence to coerce others into silence.
Since this route can be described as Falling in Love With My Abusive and Murderous Rapist: The Game, Matsuda's violent nature extends to Azuma and he brutally rapes him. This is single-handedly the most triggering scene in the game as Azuma himself gets flashbacks to his abusive childhood while Matsuda beats him up. To make things worse, Matsuda shushes Azuma by saying he won't hit him if he's silent. This scene. Is. Trash.
A few days pass with Azuma dwelling on past events and wondering where everything went wrong. Azuma, the greatest Matsuda apologist known to man, decides it's time to blame the survivor's distrust of Matsuda for his actions. Okay. Also, he demands an apology from Matsuda for his abuse, but Matsuda responds that he won't apologize for raping and beating him "because he likes him".
Yes, you read that right. Our creepy resident husband beater decides abuse is okay if it's out of love!!! And it's rather obvious the writer has no issue backing him up.
The narrative keeps going downhill and none of us can stop it.
GOOD ED: Food starts running low so Takara, Hongou, and Shimada lose their marbles and break into the warehouse. They accuse Matsuda of having hidden food reserves, which he… actually doesn't. Azuma and Matsuda spend the night hiding in a cave, where they fuck and Matsuda once again makes me listen to his "I raped you because I like you" bullshit. The morning after, they make their way back to the beach. Only Takara is there, who apologizes and asks if they can go back to being friends. (What the fuck?).
Matsuda and Azuma say NO and take Mitsugi's half-finished boat for themselves. (WHAT the FUCK??). Finally, the route ends with the two of them kissing while rowing the boat.
Logic left the chat.
BAD ED1: The survivors decide to go confront Matsuda about food distribution. Unfortunately, Uchimura tries — and fails, which is the unfortunate part — to kill Matsuda with a fruit knife. Matsuda pulls out his big bad kitchen knife and uses it to kill Shimada and Uchimura. Hongou and Mitsugi escape, but Takara trips and falls on his ass. Azuma gets in the way of the stab meant for Takara and bleeds out. Takara runs away and Matsuda locks himself up in his room with Azuma's corpse on his bed. Yes, necrophilia implied.
BAD ED2: I can't even talk about it. Just know it somehow got worse, and at some point Mitsugi died, and I cried. There wasn't even anything useful to the plot. The way Azuma is humiliated in this ending is devastating. Matsuda is simply trash, we've been knew.
BAD ED3 (SHIMADA END): Shimada pulls a Mark Jefferson and drugs Azuma to take suggestive pictures of him. Additionally, he shows Azuma the photos he's taken with his camera. Every subject is a corpse. He admits that since opportunities to take pictures of corpses are rare, he likes drugging people to make them look like they're dead. Azuma grows addicted to Shimada's drugs and becomes Shimada's and Matsuda's blow-up sex doll. Anyway, this ending just confirms everyone but Mitsugi is fucked up in the head, save me from this hell.
Takara
A happy-go-lucky dude with a positive personality and a baby face to go along with it. In spite of being the mastermind (pretends to be shocked), his route is the simplest and shortest one. Takara confesses to being a cannibal and the mastermind behind their confinement on the island. He initially planned to kill everyone but changed his mind due to his interest in Azuma.
GOOD ED: Takara tells Azuma he has two days to find a treasure he hid on the island. If he does, Takara will let everyone live, otherwise, he'll kill them all. Azuma finds the treasure, which is a dagger with the name "Azuma Kyoujirou" engraved on the handle. Takara calls a rescue team to get the survivors out of the island and promises to explain everything on the next time they meet.
Mitsugi, Matsuda, and Azuma investigate Takara and the island, following the unexpected deaths of Uchimura and Kido. Since the writers do drugs, Takara randomly pops into Azuma's house and rapes him. Subsequently, he tells Azuma to find him two days later if he wants to hear the whole truth.
Azuma shows up in Takara's building, as agreed. Azuma shares the story that he pieced together with the help of Mitsugi and Matsuda. Spoiler: No, there's nothing interesting about the overarching plot of the game. I was bamboozled.
Togajima, the island they all went to, was originally known as Sin Island. It was used to exile criminals. The Japanese government sent Takara's clan there, and as there was no food, they had to resort to cannibalism. When exile became illegal, the government decided to dispose of everyone on the island because they didn't want the atrocities that happened there to come to light (starvation and cannibalism). The ancestors of everyone Takara gathered in Togajima were part of the Japanese army, which is why he wanted to kill them in the same way his clan members had died.
The reason Azuma is so special is that his ancestor, Azuma Kyoujirou, saved part of Takara's clan. Because of that, Takara's super powerful and wealthy family stalked Kyoujirou's descendants for years. In the customs of Takara's family, cannibalism is a demonstration of love, so they wanted to slowly eat Azuma instead of killing him. (What the fuck is this game?). Takara was chosen to take care of Azuma due to them being close in age.
After the infodump is over, Azuma says that he'll take Takara hostage to guarantee the safety of the Togajima survivors. The whole hostage situation is more of a proposal to free Takara from the ties to his family. Takara agrees and says that just like Azuma belongs to him, he wants to belong to Azuma too.
The two of them leave the building and get on the car Mitsugi and Matsuda were waiting in. The four of them decide to go abroad to avoid being found by Takara's family.
BAD ED1: Azuma doesn't believe Takara's confession, which leads to Takara cutting and eating Azuma. (What the fuck).
BAD ED2: Takara reveals that he watched Azuma ever since he was a child, so he knows about his abusive parents and his dead younger brother. Takara knocks Azuma out, flies him over to the mainland, and locks him up in his house. Azuma wakes up and realizes that he's chained in an empty white room. Takara visits him several times throughout each day and simulates Azuma's childhood, forcing him to eat vegetables from the trash and beating him whenever he refuses to. Additionally, he peels off the burn scar on Azuma's back because it was done by someone other than him.
Following extended psychological, physical, and sexual abuse, Azuma digs his thumbs into Takara's eyes, blinding him. He leaves the house thinking to himself that he won't die for the sake of someone else's entertainment.
Azuma
Unlike your usual plain protagonist, Azuma has a meaningful backstory. It's not something lightly revealed and never brought up again; Azuma has deep-rooted traumas tied to it. His past is fed to the player in chunks throughout different routes, however, Takara's second bad ending reveals every detail.
Although Azuma's parents are mentioned in the game often, his sibling isn't. Azuma had a brother who was younger than him by one year. The two of them were so weak and underweight that the only thing they could do was lie on the floor all day. At one instance, Azuma tried to protect his brother from his dad, and that's how he got the burn on his back. Azuma's brother told him that he wanted to die, to which Azuma replied that he had to live since he would build a paradise and take him away once they grew up.
One day, Azuma's father expresses his dissatisfaction with having to feed two children. Before leaving for work, he tells them that he'll take care of whoever kills the other. Azuma asphyxiates his weaker brother and his parents find the corpse upon getting home. They leave to hide the body and are killed in a car crash organized by Takara's family.
While choking his brother, Azuma thought to himself that he was going to live for his own sake instead of dying for someone else's, which explains his last thoughts in Mitsugi's second bad ending. In contrast to his childhood self, he was happy to die for someone else.
Azuma is a charming and lovable protagonist. He's earnest and hard-working, and his self-deprecating commentary makes the player feel more attached and protective over him. He's the kind of character that is carefree on the outside while thinking horrible things on the inside. In every route, he expresses his wish for the ship not to pick them up, since he doesn't want to return to his empty daily life.
The game is about Azuma finally finding the paradise he talked to his brother about and also answering the question his brother made back then: is there really happiness in the world?
I think this connection tying the name of the game with Azuma's past and the end of his journey is really good. However, it… only really makes sense in Mitsugi's route. When Azuma has a monologue about paradise in the other two endings, you can just look on in horror and confusion. Especially in Matsuda's route.
Knowing everything Azuma has been through, I can't be invested in any ending other than Mitsugi's. Azuma walking out of an abusive environment and right into another one? No thanks.[/spoiler]
Review: Paradise Is a Constant Reach for the Light at the End of the Tunnel
Story
I have many gripes with the narrative. First of all, the overarching story is just bad. Usually, in this kind of darker and more serious visual novels the mystery that unveils from route to route keeps you invested. In Paradise, however, the final reveal of the truth and the motivations behind it is incredibly lame and uninteresting. While playing Mitsugi's route, you get the impression that the truth is deeper than it actually is. You're hooked and it has your full attention. Unfortunately, the mastermind and his motives are just stupid in the end. You can't help but stand there asking yourself, "That's it?"
My investment in the story as a whole flew out the window. You can't seriously expect me to give a fuck about the reveal when even the culprit himself doesn't care. In fact, not only are his motives ass, the way they're presented sucks too. Paradise only gives you a big old infodump in the form of confirming your Wikipedia searches with the mastermind. "Dude, I found your anime backstory on the internet. Is this true?" "Oh yeah. I don't actually care about it, though. I'm following this script because I have to."
WHAT EVEN WAS THE POINT OF THIS? Don't make your game live off of having a ~deep and mysterious~ story and then go, "Sike, just kidding!"
Paradise focused on setting up a horror atmosphere but didn't think about where it was supposed to lead the player to. It paved the road and didn't finish the destination. It's incredibly disappointing.
Speaking of the reveal, the mystery behind the mastermind's identity is a joke. You know why? BECAUSE THE DEVELOPERS THEMSELVES SPOILED IT. THE PROMOTIONS SPOILED IT. THE 'LOCKED ROUTE' STATUS SPOILS IT. EVERYTHING SPOILS IT. At this point, I feel like the developers WANTED us to know who the culprit is even if the writer didn't.
As avid consumers might know, most Japanese VNs have a Gallery section on their website. It shows you samples of a few illustrations from the game and sometimes includes dialogue from the scenes in the CGs. It's there for promotional purposes. They want to convince you to buy the game. So why in the hell is there an illustration and dialogue that spoils the mastermind? And just in case you didn't get the memo, don't worry, it's just a coincidence that [REDACTED]'s character route is locked until you finish the other two. Totally just a coincidence. Not suspicious at all.
Maybe… just maybe… don't spoil that [REDACTED] is a love interest? If Paradise's team hadn't told us he had a route, we wouldn't have realized it's locked. Many games have done this before!!! The concept of secret routes isn't new at all. You just don't mention the route is there and it's up to the player to notice the unlocked content after finishing the game. However, since we were told he's a romanceable character, and he's conveniently locked until I finish the other two stories, and I have, you know, a BRAIN, I can tell [REDACTED] is the murderer!!!!!!!
Not saying his name outright is only a formality at this point.
Here comes another complaint about the mastermind's route: As an outcome of the final "reveal" being the whole point of his route, it's incredibly half-assed. You should take at least 10 hours playing each of the previous two characters' stories. The culprit's route, though? 5 hours at most. It's really short, it's really rushed, it's really lame. This poor dude got shafted in every sense. Despite the fact that Paradise -KIWAME- is a fandisc, it handled his route a lot better than the original full-length game.
The last thing I find worth noting is how everything after Mitsugi's route feels like putting your brain through the wringer. Although Paradise is not as long as, say, Lamento, it's by no means one of the shorter VNs out there. Everyone seemed to settle with Mitsugi > Matsuda > Unlockable as the recommended route order, yet this plot progression makes no sense. Matsuda's route has no plot revelations whatsoever so there's no reason to leave that torture porn bullshit second. Mitsugi's route already gives away who the culprits are, so really, the only progression that makes sense (if you value your sanity) is Matsuda > Mitsugi > That dude.
I'm doing a better job than the Paradise team at keeping the twist under wraps.
The only reason someone would suggest the crappy route order instead is if they don't want you to play Matsuda first and rage quit before finishing even half of the game. Seriously. Keep this in mind if you decide to play Paradise, for some reason. Like MITSUGI ♥
I'll conclude my thoughts on the narrative by praising the writer's knack for writing dialogue. Yes, I did actually find something praise-worthy in here. Kyuuyouzawa Lychee's writing truly stands out when it comes to natural and relatable character interactions. When she wants to make you laugh, she'll make you laugh. When she wants to make you swoon, she'll make you swoon. All the interactions were a delight to watch until the writer decided it was time to bring out questionable morals. I can admit I liked Matsuda a lot until he went from king of consent to king of abuse.
Art
Paradise's art is right up my alley. Kotomi Youji is the main artist; she has previously worked on otoges such as Zettai Kaikyuu Gakuen and Mashou Megane. Some illustrations look stiffer than others but it has more to do with art style inconsistencies than with proportions. Just by comparing Mashou Megane's art with Paradise's, it's apparent this is Youji's best work thus far. I really like her art style and hope to see her taking part in more visual novels in the future.
I also have no complaints concerning the backgrounds — the setting they wanted to portray is captured well. The background quality is higher than the standard, but not better than something as meticulous as DMMD.
Music
There's nothing special to say about Paradise's music. It's better than your average Otomate soundtrack, yet not as elaborate as a Nitro+CHiRAL one. It's not like I expect awesome bangers from visual novels, though. Paradise's music accomplished what it set out to do and matched the mood of its narrative. If I had to choose a song that I grew fond of, it's definitely Flow, which played during the good ending credits. It has a calming and chill vibe, so it's a shame that it's so short.
Voice Acting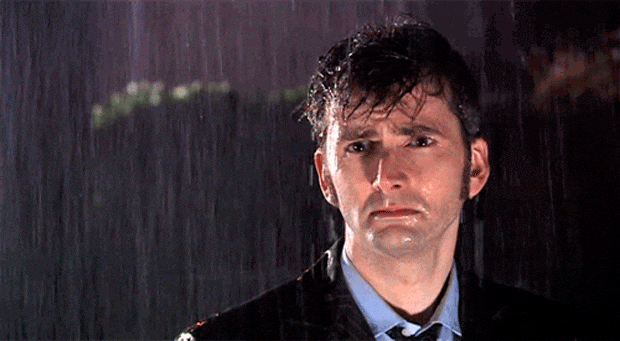 Hello darkness my old friend. I was devastated, bamboozled, led astray, disappointed, heartbroken.
Drama aside, Paradise's voice acting is pretty solid. Kitayama Kyousuke (Azuma) and Sasanuma Akira (Mitsugi) were great. Kyousuke is well-known for his work in BL stuff; we all know he's a pro. On the other hand, Sasanuma Akira is a pleasant surprise. I hadn't heard him in any major roles before, but the role of Mitsugi fit him like a glove.
I do have to nitpick something about Kyousuke's performance, although I'm certain the problem was caused by the directions he received. One of the on-going themes in Mitsugi's route is that Azuma and Mitsugi have great sexual compatibility. Due to this, the directors appeared to want Kyousuke to tone up his moans… and he ended up sounding in pain instead. Deadass, he sounds like his intestines are getting skewered with a spear. Thankfully, this doesn't happen in any other route.
I also loved… Matsuda's… voice. Cough. Cough cough. Did I mention Matsuda is voiced by Furukawa Makoto? And… Furukawa Makoto's pretty god-like… That scene where he was whispering in my ear… Actually, his early +18 scenes were… Okay… Yes… Good… I'm fucking biased so I'm just gonna throw an 8/10 in here and run away before I start blabbering, "M-M-M-M-Makoto whispered in my ear once before becoming a rapist and I got 69 boners and died."
Verdict
It's hard to deliver my final verdict on Paradise. What the hell should I even rate this? Mitsugi/10? I'm going to be really honest and say that even though I tried to make fun of the game in this review, I didn't have much fun at all while I was actually playing it. Mitsugi's route made me laugh and smile and whatever else but everything else was hell. I forced myself to finish this. The road to the end was so infuriating that I genuinely wanted to put my fist through my screen. Considering Mitsugi's route is hardly 30% of the game, I wanted to end my suffering for at least 60% of it.
Nonetheless, I'd still not take it back. Mitsugi is one of those characters that become a hyperfixation. By the end of the series I was like MITSUGI AND AZUMA I LOVE YOUUUUU KSDJAJDAKSDJF
The deal with Mitsugi is that he's characterized like an actual individual rather than a fictional character stereotype that gets swung around by the plot. No, no matter how hard things got he didn't become some satanic crackhead simply because the story wanted him to. His personality was a constant no matter what ending or route you were playing. If every other character had been like that, playing Paradise wouldn't have sucked the soul right out of me.
What I'm getting to is that Paradise was delicately crafted in hell to infuriate you, traumatize you, and take away your will to live and I'd objectively not recommend this shit to anyone sane. However, if by any chance you really want a reason to try it…… MI–TSU–GI!!!!!!!!
The Review
Paradise
Paradise focuses all of its efforts on setting up a horror atmosphere that amounts to absolutely nothing. The plot tricks you into thinking it's interesting and then leads you nowhere. I'm only thankful to Paradise for giving me Mitsugi and Azuma. Oh, and the art is cool too, I guess. Kotomi Youji came through with strong eye candy you can appreciate while reading all the morally wrong bullshit in the script.
Review Breakdown
Story

0

Art

0

Music

0

Voice Acting

0

Enjoyment

0