Genre: Visual Novel, BL, Mystery
Platform: PC
Release Date: November 30th, 2017
Warning: The content being reviewed is only fit for audiences over 18 years of age. Additionally, this game contains graphic depictions of gore, rape, and abuse. Play at your own discretion.
---
Back when Pil/Slash announced their collaboration with LOVE&DESTROY, there was no way of knowing what to expect. Was it going to be another Pigeon Blood? Were they going the Shingakkou route? Was I going to hate it? Was it going to be a freaks-only event?
All of these questions proved to be too much for me, so I just let Paradise go untouched. I wasn't planning to mess with it until I got some kind of confirmation on what the game was like. Pil/Slash more or less saying, "It's every guro lover's wet fantasy xD," didn't help much. A lot of people probably had the same skepticism since there was a long silence concerning Paradise in the English community. Even now, with an English Localization possibly in the making, discussions about Paradise are scarce.
In early 2018, the big Paradise wave came. There weren't any numbers to prove it, but the Japanese fanbase appeared to love Paradise. A few months after its release, its first fandisc was in the works and its second fandisc entered a crowdfunding phase. There was a quality dip there in spite of achieving over 1000% of its initial funding goal, though that's a story for another day.
The REAL weight of Paradise's popularity could be seen in Cool-B's 2019 voting results, and it's what ultimately convinced me to play it. The results of Cool-B magazine's 2nd BL Game Grand Prix came out last year's September. Paradise was ranked 3rd in the voting for the reader's favorite BL game. Also, wait for it… Azuma ranked 1st in the favorite main character category.
While I understand that Gian's votes were divided between the two incarnations of his character, Azuma winning against THE Giancarlo is pretty huge. As someone who feels an unreasonable need to stay up to date with popular games across the board, I played not one, but all three Paradise games. You know, like a clown.
Paradise: All The Routes and Endings
Now, the question this review aims to answer is this: did I want to kill myself while journeying through Paradise?
As a plus, I'll talk about what I liked and didn't like. If you don't need nor want spoilers, just don't open the spoiler tag and you'll be fine.
Review: Paradise Is a Constant Reach for the Light at the End of the Tunnel
Story
I have many gripes with the narrative. First of all, the overarching story is just bad. Usually, in this kind of darker and more serious visual novels the mystery that unveils from route to route keeps you invested. In Paradise, however, the final reveal of the truth and the motivations behind it is incredibly lame and uninteresting. While playing Mitsugi's route, you get the impression that the truth is deeper than it actually is. You're hooked and it has your full attention. Unfortunately, the mastermind and his motives are just stupid in the end. You can't help but stand there asking yourself, "That's it?"
My investment in the story as a whole flew out the window. You can't seriously expect me to give a fuck about the reveal when even the culprit himself doesn't care. In fact, not only are his motives ass, the way they're presented sucks too. Paradise only gives you a big old infodump in the form of confirming your Wikipedia searches with the mastermind. "Dude, I found your anime backstory on the internet. Is this true?" "Oh yeah. I don't actually care about it, though. I'm following this script because I have to."
WHAT EVEN WAS THE POINT OF THIS? Don't make your game live off of having a ~deep and mysterious~ story and then go, "Sike, just kidding!"
Paradise focused on setting up a horror atmosphere but didn't think about where it was supposed to lead the player to. It paved the road and didn't finish the destination. It's incredibly disappointing.
Speaking of the reveal, the mystery behind the mastermind's identity is a joke. You know why? BECAUSE THE DEVELOPERS THEMSELVES SPOILED IT. THE PROMOTIONS SPOILED IT. THE 'LOCKED ROUTE' STATUS SPOILS IT. EVERYTHING SPOILS IT. At this point, I feel like the developers WANTED us to know who the culprit is even if the writer didn't.
As avid consumers might know, most Japanese VNs have a Gallery section on their website. It shows you samples of a few illustrations from the game and sometimes includes dialogue from the scenes in the CGs. It's there for promotional purposes. They want to convince you to buy the game. So why in the hell is there an illustration and dialogue that spoils the mastermind? And just in case you didn't get the memo, don't worry, it's just a coincidence that [REDACTED]'s character route is locked until you finish the other two. Totally just a coincidence. Not suspicious at all.
Maybe… just maybe… don't spoil that [REDACTED] is a love interest? If Paradise's team hadn't told us he had a route, we wouldn't have realized it's locked. Many games have done this before!!! The concept of secret routes isn't new at all. You just don't mention the route is there and it's up to the player to notice the unlocked content after finishing the game. However, since we were told he's a romanceable character, and he's conveniently locked until I finish the other two stories, and I have, you know, a BRAIN, I can tell [REDACTED] is the murderer!!!!!!!
Not saying his name outright is only a formality at this point.
Here comes another complaint about the mastermind's route: As an outcome of the final "reveal" being the whole point of his route, it's incredibly half-assed. You should take at least 10 hours playing each of the previous two characters' stories. The culprit's route, though? 5 hours at most. It's really short, it's really rushed, it's really lame. This poor dude got shafted in every sense. Despite the fact that Paradise -KIWAME- is a fandisc, it handled his route a lot better than the original full-length game.
The last thing I find worth noting is how everything after Mitsugi's route feels like putting your brain through the wringer. Although Paradise is not as long as, say, Lamento, it's by no means one of the shorter VNs out there. Everyone seemed to settle with Mitsugi > Matsuda > Unlockable as the recommended route order, yet this plot progression makes no sense. Matsuda's route has no plot revelations whatsoever so there's no reason to leave that torture porn bullshit second. Mitsugi's route already gives away who the culprits are, so really, the only progression that makes sense (if you value your sanity) is Matsuda > Mitsugi > That dude.
I'm doing a better job than the Paradise team at keeping the twist under wraps.
The only reason someone would suggest the crappy route order instead is if they don't want you to play Matsuda first and rage quit before finishing even half of the game. Seriously. Keep this in mind if you decide to play Paradise, for some reason. Like MITSUGI ♥
I'll conclude my thoughts on the narrative by praising the writer's knack for writing dialogue. Yes, I did actually find something praise-worthy in here. Kyuuyouzawa Lychee's writing truly stands out when it comes to natural and relatable character interactions. When she wants to make you laugh, she'll make you laugh. When she wants to make you swoon, she'll make you swoon. All the interactions were a delight to watch until the writer decided it was time to bring out questionable morals. I can admit I liked Matsuda a lot until he went from king of consent to king of abuse.
Art
Paradise's art is right up my alley. Kotomi Youji is the main artist; she has previously worked on otoges such as Zettai Kaikyuu Gakuen and Mashou Megane. Some illustrations look stiffer than others but it has more to do with art style inconsistencies than with proportions. Just by comparing Mashou Megane's art with Paradise's, it's apparent this is Youji's best work thus far. I really like her art style and hope to see her taking part in more visual novels in the future.
I also have no complaints concerning the backgrounds — the setting they wanted to portray is captured well. The background quality is higher than the standard, but not better than something as meticulous as DMMD.
Music
There's nothing special to say about Paradise's music. It's better than your average Otomate soundtrack, yet not as elaborate as a Nitro+CHiRAL one. It's not like I expect awesome bangers from visual novels, though. Paradise's music accomplished what it set out to do and matched the mood of its narrative. If I had to choose a song that I grew fond of, it's definitely Flow, which played during the good ending credits. It has a calming and chill vibe, so it's a shame that it's so short.
Voice Acting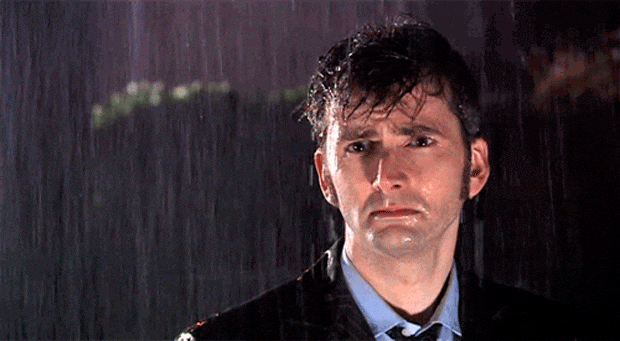 Hello darkness my old friend. I was devastated, bamboozled, led astray, disappointed, heartbroken.
Drama aside, Paradise's voice acting is pretty solid. Kitayama Kyousuke (Azuma) and Sasanuma Akira (Mitsugi) were great. Kyousuke is well-known for his work in BL stuff; we all know he's a pro. On the other hand, Sasanuma Akira is a pleasant surprise. I hadn't heard him in any major roles before, but the role of Mitsugi fit him like a glove.
I do have to nitpick something about Kyousuke's performance, although I'm certain the problem was caused by the directions he received. One of the on-going themes in Mitsugi's route is that Azuma and Mitsugi have great sexual compatibility. Due to this, the directors appeared to want Kyousuke to tone up his moans… and he ended up sounding in pain instead. Deadass, he sounds like his intestines are getting skewered with a spear. Thankfully, this doesn't happen in any other route.
I also loved… Matsuda's… voice. Cough. Cough cough. Did I mention Matsuda is voiced by Furukawa Makoto? And… Furukawa Makoto's pretty god-like… That scene where he was whispering in my ear… Actually, his early +18 scenes were… Okay… Yes… Good… I'm fucking biased so I'm just gonna throw an 8/10 in here and run away before I start blabbering, "M-M-M-M-Makoto whispered in my ear once before becoming a rapist and I got 69 boners and died."
Verdict
It's hard to deliver my final verdict on Paradise. What the hell should I even rate this? Mitsugi/10? I'm going to be really honest and say that even though I tried to make fun of the game in this review, I didn't have much fun at all while I was actually playing it. Mitsugi's route made me laugh and smile and whatever else but everything else was hell. I forced myself to finish this. The road to the end was so infuriating that I genuinely wanted to put my fist through my screen. Considering Mitsugi's route is hardly 30% of the game, I wanted to end my suffering for at least 60% of it.
Nonetheless, I'd still not take it back. Mitsugi is one of those characters that become a hyperfixation. By the end of the series I was like MITSUGI AND AZUMA I LOVE YOUUUUU KSDJAJDAKSDJF
The deal with Mitsugi is that he's characterized like an actual individual rather than a fictional character stereotype that gets swung around by the plot. No, no matter how hard things got he didn't become some satanic crackhead simply because the story wanted him to. His personality was a constant no matter what ending or route you were playing. If every other character had been like that, playing Paradise wouldn't have sucked the soul right out of me.
What I'm getting to is that Paradise was delicately crafted in hell to infuriate you, traumatize you, and take away your will to live and I'd objectively not recommend this shit to anyone sane. However, if by any chance you really want a reason to try it…… MI–TSU–GI!!!!!!!!
The Review
Paradise
Paradise focuses all of its efforts on setting up a horror atmosphere that amounts to absolutely nothing. The plot tricks you into thinking it's interesting and then leads you nowhere. I'm only thankful to Paradise for giving me Mitsugi and Azuma. Oh, and the art is cool too, I guess. Kotomi Youji came through with strong eye candy you can appreciate while reading all the morally wrong bullshit in the script.
Review Breakdown
Story

0

Art

0

Music

0

Voice Acting

0

Enjoyment

0