The day has finally arrived, 27th January 2018.
I woke up early on that day, quickly packed the essential items (wallet, tickets etc) before heading out of the house to the venue. It was rather packed when I arrived and there were long snaking queues to purchase the official merchandise. Fortunately, I was able to get my light stick and quickly went for lunch before the concert started.
As I entered the concert venue, I felt all giddy and excited as I was sitting near the stage and I had a clear view of it. I hummed to the songs that were being played as I watched fans trickling in through the various entrances. Glancing at my phone, there was approximately 5 more minutes. I felt my hands were becoming clammy as I clutched onto my light stick tightly.
Screams and cheers were heard.
Lights darkened.
The show has begun.
It started with the introduction clips, which were beautifully produced by fellow member Shindong. As soon as "Black Suit" started playing, I was amazed at the sight in front of me – Sapphire blue light sticks waving in the air as screams echoed in the air. I smiled and like the rest of them, cheered loudly for the boys as they danced effortlessly. My eyes were glued onto them as I felt feelings of happiness bubbled in me. They looked much smaller in real life but undoubtedly better looking than in HD pictures. In a flash, Super Junior has finished singing and were looking at the fans who were seating and standing.
The first talk was filled with laughter and excitement as the members greeted fans in English and Korean. I was amazed at Donghae, who spoke English for his entire talk and I heard the person next to me, murmuring that his English was good. The star was undoubtedly Eunhyuk, who greeted fans in a slightly teasing tone as he greeted fans in English, adding an occasional Singlish word behind his sentences. "You guys miss me lah?" Eunhyuk grinned while looking at fans while the members laughed behind him. "Yes!" A resounding respond was heard. Looking satisfied with the answer, he replied smugly 'I miss me too". I had a great laugh while listening to the members speak as I was amused looking at the other members who were seemingly distracted while listening to one member speak.
The members carried on with concert, singing their hearts out to ballads such as "One More Chance", written by fellow member Donghae and "Daydream" etc. One of the highlights of the concert was definitely the boys dressing up as power rangers as they pretended to unleash their "super powers" as they interacted with the fans and sang at the same time. Super Junior has had interesting choices of outfits, the previous time was a Disney concept, Frozen, which were much loved by the fans, but especially member Heechul, who was a big fan of Frozen's Anna.
The boys continued to pull off great and powerful dance performances, dancing passionately and singing their hearts out. Honestly speaking, I could not get enough of them performing but as I see the members enjoy themselves thoroughly, that made me feel reassured and contented.
One of the most repeated words the boys mentioned throughout the entire duration of the concert was "Chili Crab" and "Pepper Crab". It seemed that the boys missed devouring the crabs thus they mentioned it several times. Eunhyuk mentioned a "Elf crab", erupting laughter from members and fans who heard it. I guess Singapore will always have a special place in their heart, considering the number of times they said the word "crab" and most remarkably, they won several awards in Singapore in 2011 when MAMA, an awards ceremony hailed from South Korea was held here.
Time was ticking by too quickly and soon, I found myself listening to their second talk.
Super Junior members were mostly thanking fans for attending their concert while adding some wildness and silliness in their talks too. Nonetheless, I feel the members are trying their best to repay their love and gratitude to international fans and this makes me cherish them even more than usual. Singapore was their first international stop after Seoul, South Korea and they were performing after 3 years. I feel that the members did their very best, providing fan services and interacting with fans within their boundaries etc. Although there were lack of sub-unit performances (D&E, SJM etc), I feel that they have managed to fill up the gaps by their enthusiasm and inclusiveness with the fans.
The first concert I've been too is yet the best and most memorable one. I hope the boys would be back soon, regardless of whether it's a concert or individual schedule, I would welcome them with open arms.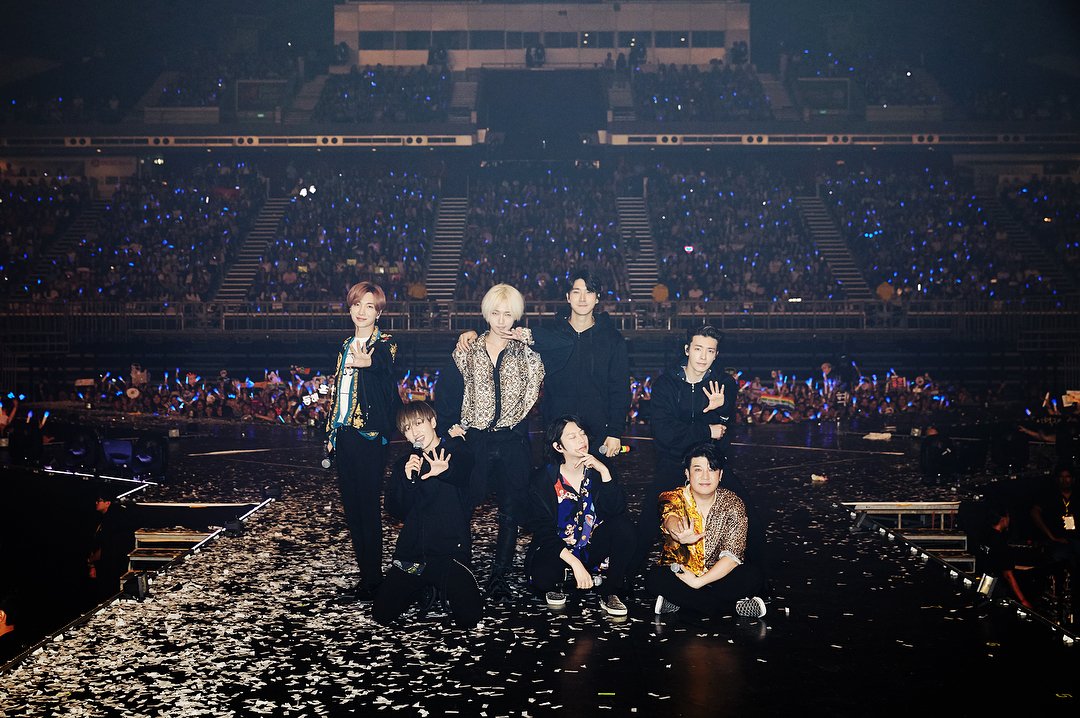 P/s : They should have included Sexy, Free and Single, the song they failed in recalling the choreography multiple times.